Elvis Presley is an American icon for his love of both music and excess. When it came to enjoying himself, nothing could stop The King. However, there is a side to him that many people never realize existed.
From his days in the army, Elvis was enamored by the power and discipline of martial arts. As he rose to new heights as a star of stage and screen, he also achieved his seventh-degree black belt. Here is a closer look at the tenacity of The King and his journey towards becoming a karate master.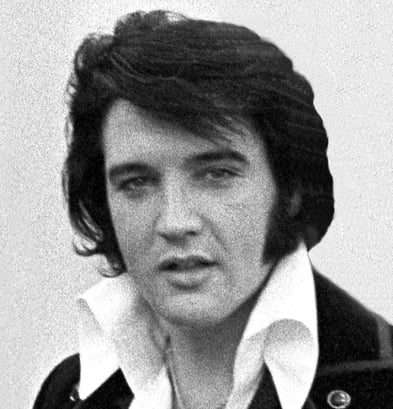 Always on My Mind
Elvis Presley found himself enlisting in the military resulting in his deployment to Germany during the late '50s. It was here that his love of karate would begin under the tutelage of Jurgen Seidel.
Transfixed by the discipline associated with the technique, he spent his paid leave in Paris studying under a Shotokan teacher. He also spent the majority of his spare time sparring with fellow soldiers and while conditioning his hands for board breaking!
It's Now or Never
Upon his return to the States, Elvis Presley would continue his quest to increase his training. It was in 1960 at a Beverly Hills Kenpo demonstration that he met the man that would become both his teacher and his friend, guiding him towards becoming a black belt.
Elvis immediately took a liking to the kenpo master, Ed Parker. Becoming fast friends, the kenpo master would teach Elvis throughout his life.
Suspicious Minds
The martial arts saw a rise in popularity during the '60s and '70s, and celebrities flocked to climb the ranks. There was a question as to how deserving some of these stars had the talent to achieve the belts they sought, and Parker didn't want anyone doubting the skill of Elvis Presley.
Contacting his friend and strict instructor Hank Slomanski, Parker asked to have Elvis train and test on neutral grounds to prevent an air of favoritism. Slomanski contacted Parker weeks later saying that Elvis might not be pretty (Slomanski's tastes clearly ran counter to the popular opinion of the day), but "he's a black belt."
If I Can Dream
Elvis Presley wasn't satisfied with obtaining his black belt, and while Ed Parker Kenpo training was effective, both men felt The King would benefit under the tutelage of an even more experienced master. Parker convinced him to contact Kang Rhee.
A seventh-degree black belt, Master Kang Rhee at first thought the phone call about instructing the King of Rock and Roll was some kind of practical joke. It wasn't until he found himself face-to-face with Presley that he understood the man's dedication to the craft.
All Shook Up
From the beginning, Kang Rhee understood Elvis Presley was serious about his training, especially when he insisted on working with regular classes instead of taking private lessons. However, they soon found other students were more interested in watching The King than the instructors!
To demonstrate his dedication, Elvis asked his Master to set up a demonstration and show that in classes he was just another student, not an entertainer. The demonstration helped to illustrate The King's technique, as well as help test younger students as they excelled in their own training.
Don't Be Cruel
As one of the biggest martial artists in the '80s, it was no surprise that Elvis Presley came to meet Bill "Superfoot" Wallace. So impressed by his showing in the US Championships in Dallas that The King hired Wallace as a bodyguard after only a brief interview.
While Wallace enjoyed taking down Presley's other staff, he understood that The King couldn't spar with Wallace himself. The chance that Elvis would hurt his face or vocal cords was too great, but that didn't mean he couldn't fight. Wallace comments that his technique was superb and Elvis was an expert at using self-defense as well.
A Little Less Conversation
Elvis Presley didn't just want to become a karate master, he also wanted to bring the technique to the world. One of his last major projects was to be a massive documentary about martial arts, called The New Gladiators, a film The King thought would bring in over nine million within the first month. You can watch an excerpt of it here:
Unfortunately, due to Elvis' untimely death, this movie would never make it to theaters. Although Elvis will always be remembered first and foremost for his music, it is clear that he truly loved martial arts.