By Dwight Trower
Originally published on the MAIA blog.
In my many years as a martial artist and school owner, I have had the fortune of being able to instruct many students with Down Syndrome, as well as others on the autism spectrum and with various mental and physical disabilities. Given the inclusive nature of martial arts (no one sits on the bench!) I know that many of my fellow school owners have also had this experience. However, in 2010, thanks to Deidre Pujols and the Pujols Family Foundation, I was given the opportunity to do even more.
With help from the Foundation, I was able to create a stand-alone program and curriculum designed specifically for teenagers and adults with Down Syndrome who have their own unique gifts and abilities. What began as a weekly summer class in 2010, had, by 2012, turned into a year-round program taught free-of-charge to over fifty active students. We have both a beginner and an advanced class.
In the last few years, over twenty students have earned their black belts. Many more are well on their way to that accomplishment.
The students in this program do the same things that would be taught in a typical martial arts program. We just do things a little bit differently based on the individual needs of the students. The structure of the class is similar to our other classes: We begin by collecting attendance cards, saluting in, and lining up for calisthenics.
Our basic warm-up consists of a full-body exercise of some sort. This might be a variation of jumping jacks, half jacks, running in place, footwork drills, or other drills to get the body moving. We'll then do what we call balance squats. Balance training is a key component to any martial arts program, but it's even more important for a student with Down Syndrome. We lead our students in a squat with the hands behind the head, elbows back, with feet slightly wider than shoulder width, and slowly squat down as low as we can without losing our balance.
As we squat, we have them recite our secret to good balance: Keep your ears over your shoulders and your shoulders over your hips. This phrase comes into play so many times when we're working on stances, kicks, blocks and punches, as well as forms and patterns. We then move into stretching, push-ups, and ab work.
Because individuals with Down Syndrome will often have low muscle tone, flexibility often isn't as much of a concern as too much flexibility. Down Syndrome can cause also something called "ligamentous laxity," which means that the person's ligaments are too loose. This can lead to complications later in life if not handled carefully. Therefore, we work on both light stretching and strength building together.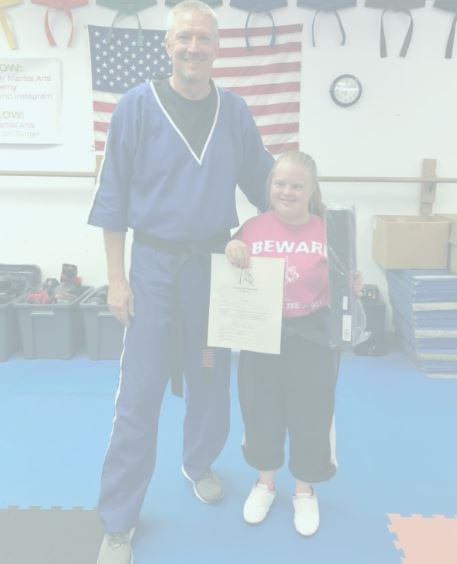 Dwight Trower and a successful student!
When it comes to overall strength, you'd probably be surprised to see how many students with Down syndrome have remarkable strength for their size. We incorporate lots of push-up variation drills and planks in our warmups. This does more than just build strength: It enhances overall body control.
Next, we move into the instruction phase of the class. Our school has a rotating curriculum that works on developing on traditional martial arts techniques. And, of course, we always finish with a fun drill that's designed to develop a particular skill or attribute.
I am often asked what the benefits of martial arts training are for a student with Down Syndrome. As a martial artist and instructor, I see the students learning and growing through their training and just like every other martial artist. Each student has their own story, their own goals, and their own needs.
Last month, I asked the students what they felt they've learned the most since they started studying martial arts. Some of these students have been training for over eight years. Others have just started their journey. Their most common answers were:
Focus
Power
Speed
Self-control
Being a better listener
Discipline
Confidence
Exercise
I then polled their parents and caregivers with the same question. Their most common answers were:
Self-control
Focus
Balance
Better processing/following instructions
Weight loss/healthy eating habits
Respect
Fitness
Friendship and camaraderie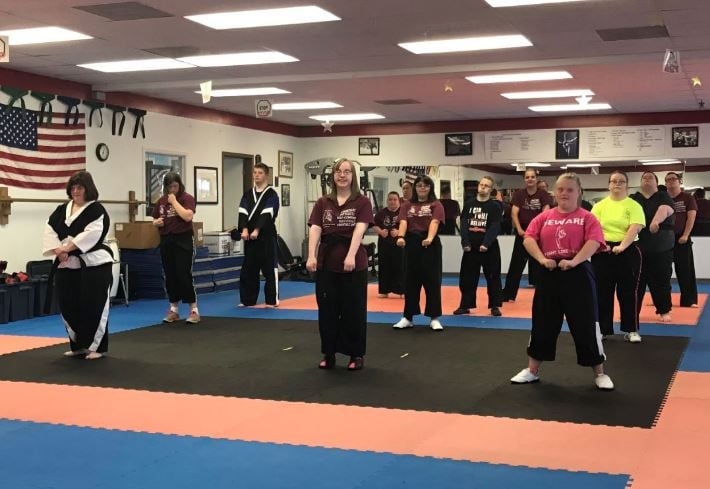 A class at St. Louis Family Martial Arts Academy.
In other words, a student with Down Syndrome reaps all the same benefits of martial arts training as any other martial artist. They see it, and so do their parents and caregivers.
As a martial arts instructor I often tell people I have the best job in the world. I get to spend my whole day teaching and working with people from a variety of backgrounds and circumstances. The people I spend my time with are all trying to learn, grow, and make themselves better every day. A student with Down Syndrome is like every other student in that regard.
One of the greatest benefits for me is getting to see how the Down Syndrome community treats those around them. Students with Down Syndrome and their families are some of the most supportive groups of people I've ever been around. They all cheer for and encourage everyone in everything they do. This is one of the most important aspects of a martial arts community as well. We all have to feel like we belong or that we are included. I think that's a great lesson for all of us.
Make sure you also read his article that was features in MASuccess. Link here.