This unconventional martial art is a combination of fighting techniques blended with acrobatic dance. The result is an art with complex movements that are as deadly as they are beautiful. Learning to perform capoeira can take some time. Those who practice this centuries-old martial art must master the art of constantly moving in a flowing style instead of the more common fixed positions found in many other styles of martial arts.
Origins in Western Africa
The development of capoeira as it is known today is credited to African slaves brought to Brazil in the 1500s. Most of these slaves were originally from Angola, though some researchers believe that the martial arts techniques involved in certain movements could come from other Atlantic African countries. The most common link between the martial art and traditional African dance is a ritual called Engolo or N'golo. Many of the boxing, headbutting and kicking movements from Engolo can be found in capoeira today.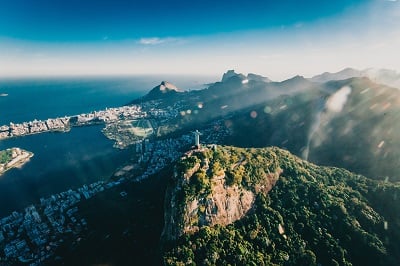 Modern-day Brazil.
Foundations of Survival
In the 1500s, Brazil was colonized by the Portuguese. The slaves owned by the colonists worked mostly in the sugarcane fields in harsh conditions. Since slaves at the time outnumbered the colonists, there were sometimes opportunities for them to escape into the wilderness of Brazil. Many successfully evaded capture. Slaves who were raised to learn Engolo often used the aggressive forms of the dance to survive in the unsettled land. Not only was Engolo useful in inhospitable territory, but it also was used by the escaped slaves to fight the government agents who hunted them down.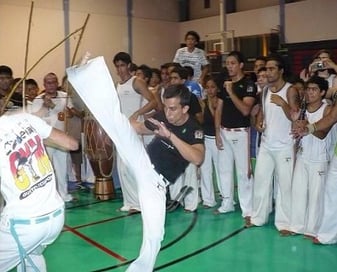 A capoeira demonstration.
Development in Freedom
As more slaves escaped from the Portuguese colonists, they began to create settlements in isolated areas of Brazil. These communities were called quilombos and often provided safety and a better quality of life for runaway slaves.
In a quilombo, culture was able to develop in new ways. This involved the establishment of capoeira in particular, since the quilombos were sometimes attacked by Portuguese soldiers and the residents needed to be able to defend themselves without the need for weapons. The Portuguese were not trained in capoeira, so they faced many defeats.
Prohibition by the Government
By the late 1800s, slavery was banned in Brazil due to pressure from abolitionists as well as the inability of the Brazilian army to chase after runaway slaves.
Unfortunately, the end of slavery did not come with perfect equality. Freed slaves and their descendants faced discrimination in Brazilian society. Homelessness and unemployment were common. Those who were proficient in capoeira, however, found that their skills were in demand in a changing economy. They began to work as bodyguards and security forces, and often, the ones who hired them were criminals. Capoeira became the skill of choice for hitmen, and was used to take out rival mob leaders or political opposition.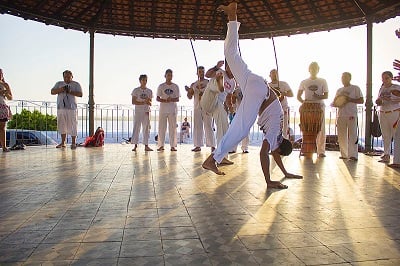 A capoeira demonstration. Today this beautiful art can be celebrated without undue violence.
In 1890, the practice of capoeira was banned across all of Brazil; anyone who was caught practicing the martial art (whether or not they had used it illegally) could face torture by the police.
Rebirth for a New Era
As Brazil went through several political changes at the turn of the 20th century, capoeira became thought of as less of a violent threat and more of a part of the national heritage. A prominent fighter named Manuel dos Reis Machado, or Mestre Bimba (Master Bimba) opened the first school of capoeira in Brazil in 1932, in an effort to preserve the martial arts element of the practice.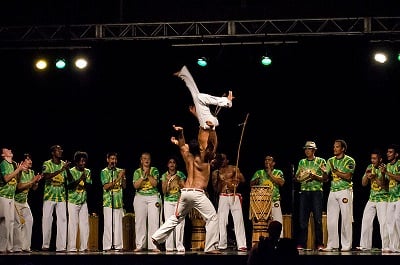 A capoeira demo at the 2013 Canadian festival Folklorama.
Those who still kept the practice of capoeira mostly played up the dance parts of the styles, rather than the violent parts, in order to appease members of society with negative views of the practice. It took some time for Brazilian society to accept the new schools teaching capoeira, but eventually the practice began to thrive. Many university-aged students and dancers made it popular, especially during the military coup and military regime in Brazil, which lasted for decades.
In 2014, UNESCO put capoeira on its Representative List of the Intangible Cultural Heritage of Humanity, which recognizes the martial art for its ability to bring societies together in the face of suppression throughout history.
Traditional and Modern
From Brazil to your hometown, capoeira is a form of martial arts beloved by those who practice it. Whether you come from a dance background or martial arts foundation, you may find a new pastime in learning the intricacies of this historical martial art.
Watch some capoeira here!