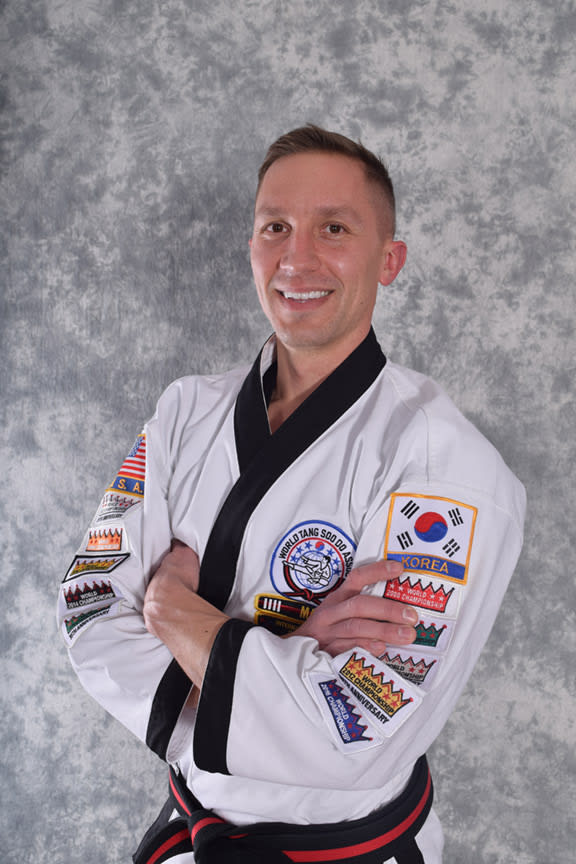 Master Christopher Perry
Master Perry is a 4th Degree Black Belt and our chief Instructor/Manager at the VK Tribury location. He has has been training in Tang Soo Do since 1991 and is a certified WTSDA Instructor, Certified Center Judge, and 8x WTSDA Region 9 Championship Cup Winner. He has a degree in Sports Management and Business Administration.
Valentin Karate has helped him grow as an instructor and technician in the WTSDA. Through the leadership of Master Valentin and his team, he have learned how to communicate important life lessons (e.g., growth mindset, integrity, and focus) into classes to ensure we are teaching our students not only how to be better martial artists but also how to be better people as well. Thanks to the leadership classes, VK Blue & Black Belt Sessions, Sparring Clinics and other training opportunities offered by Valentin Karate he continues to hone and refine his own technique and leadership abilities.
Master Perry also works at Candlewood East Marina where he is a Sales Consultant, Marketing Manager, Finance Manager and Watersports Coach.
In his spare time, Master Perry likes to spend a lot of time on the water as a watersports coach for kids and adults interested in taking their wake surfing and wakeboarding skills to the next level. He also enjoys being outdoors and staying active with my wife and daughter. You can typically find us wake surfing and wakeboarding behind a boat on Candlewood Lake, snowboarding at Sugarbush Mountain or skateboarding down our street.